Is Now the Right Time to Switch to a Hosted Phone System?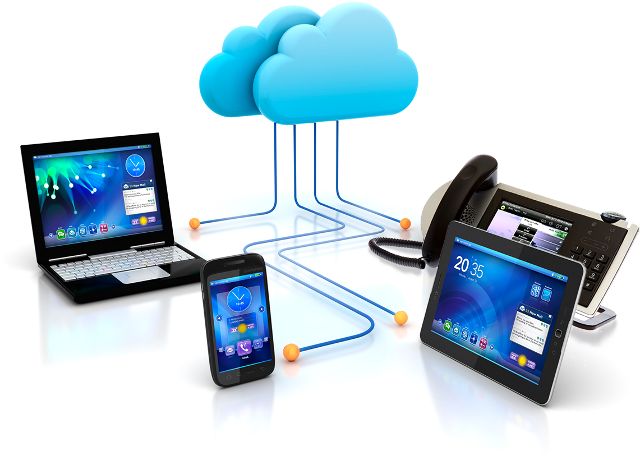 Competition fuels innovation. In order to maintain sales and present your business in the best light to your potential clients, your business must always be evolving.
You could achieve this by overhauling your entire communication system every few years, but this will cost large amounts of money and lots of precious time, leaving your customers unable to contact you for however long the upgrade takes – and risking them moving away to a competitor.
Or you could take the proactive route and turn your system into a flexible, fast-adapting machine. Rather than filling your building with bulky phone systems and servers, switch to a hosted (or, cloud-based) system that can be upgraded at the push of a button – with zero downtime.
If you want to be prepared for anything, a hosted phone system is for you.
Be Always Ready to Adapt
Today's business world is ever-changing, and adaptability is a must for any business hoping to stay afloat.
The Digital Transformation
The world is becoming more digital every year. A whopping 97% of consumers go online to find a local business or services.
After pandemic lockdowns, even more businesses went online than usual – with some even becoming online-only.
Hosted Phone systems function through the cloud, meaning anytime you decide to expand your business online, your infrastructure will be able to handle it easily.
Seamlessly Implement New Technology
Setting up a new device on a physical phone system can be cumbersome, but with a hosted phone system, you can connect any device wirelessly and instantly!
Hiring IT technicians for setup is expensive, but now that you can do it on your own, you won't need to pay a cent.
Work at Peak Capacity from Anywhere
Since 2020, remote work is now a staple of countless businesses. Having a setup in your home office is great, but a hosted phone system takes it a step further.
With mobile integration, you can make business calls while in traffic. You can work from a café with just your laptop and cell phone.
The possibilities are endless, and you won't have to sacrifice any functionality for convenience. Work at 100% from anywhere you like.
Zero-risk, Zero-downtime Systems
As previously mentioned, even a few minutes of downtime can mean losing a client – and that's a risk you don't want to take. Fortunately, with a hosted phone system, you don't have to!
Our systems are geographically redundant, with servers across Canada. This means that even if a natural disaster or power outage took out a server, your system would automatically failover to the next server instantly – keeping things running smoothly as if nothing ever happened.
Massively Improve Your Efficiency
To stay competitive, you need to be able to get things done quickly without sacrificing quality. Human limitations and time constraints give us ceilings to how much we can accomplish, but hosted phone systems offer us tools to surpass them. Just two of the many features you'll love right away:
Auto-Attendant
This is a useful tool for literally any business that receives phone calls with any kind of regularity. Auto Attendant replaces a phone receptionist and answers every incoming call with a customizable message before prompting the caller to press a button to reach the extension they want. ("press 1 for Sales", for example)
This will save you time and money on hiring a human receptionist, and offers the added benefit of keeping callers off hold for longer, since the system can handle an unlimited number of calls.
Presence – see who's available at a glance
This feature is simple – it allows you to see which of your team members are available at any given moment. They'll be displayed as busy if they're in a call, so you'll know who to reach out for a quick response rather than trying people one-by-one.
The Short Answer: Yes, Now is the Time!
If you want to be at the top of your game and ensure the longevity of your business, then switching over to a hosted phone system is a no-brainer.
The switch will help face any challenge that comes your way.
Contact a Skyway West communications expert to learn more. Or call me anytime at (604) 484-5263.
---