Cloud or Hosted vs On-Premise Phone Systems: Comparing Costs & Benefits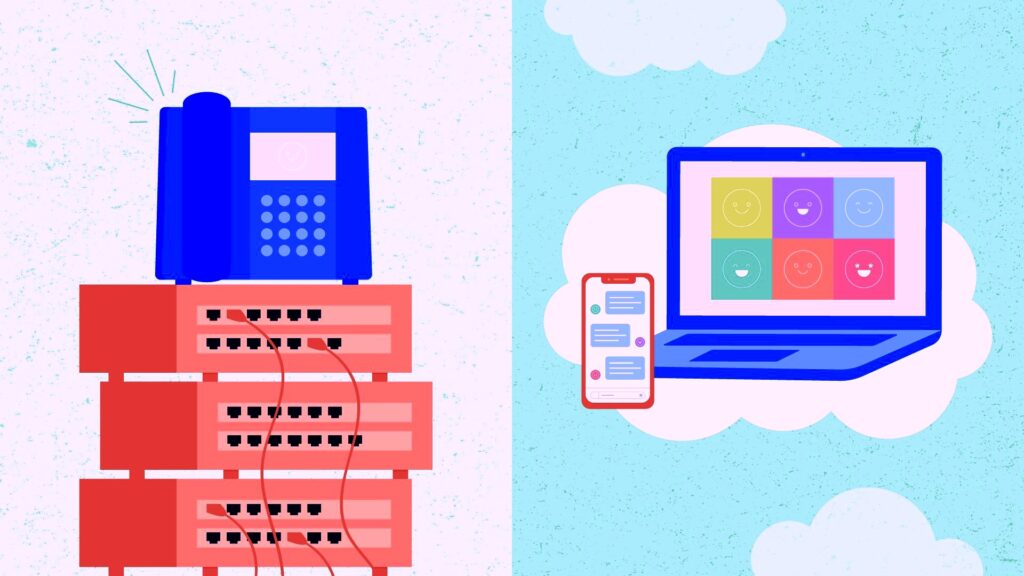 Compare the pros and cons, costs and benefits of cloud/hosted and on-premise phone systems to determine the right solution for your business.
What is a Cloud/Hosted Phone System?
Cloud/hosted phone systems are also known as VoIP, hosted PBX, or cloud-based phone systems. It's an internet-based system. This means that the service provider is responsible for managing all the necessary hardware and technology required for the service.
Service is subscription-based. Providers charge a monthly fee usually based on the amount of minutes and features required by the user.
Phones plug into a router. All calls, signaling and features are handled through the service provider's server.
What is an On-Premise Phone System?
On-premise phone systems are also known as IP-PBX and resemble traditional private phone networks. This system resides at a location such as a phone closet or computer equipment room. Calls can go through a traditional phone company as well as voice-over-internet (VoIP).
Phones are connected to the on-premise server through a local area network (LAN). Gateway cards are used to connect the system to the traditional phone company provider. Additionally, internet service telephone providers (ISTP) can be used to configure the internet-based calling.
Comparing Costs
The costs involved in both phone systems include initial capital costs and recurring costs.
Capital Costs
Capital costs include all the hardware and software required to set up the system. Initial set-up and training costs must be taken into account as well.
The first advantage of a cloud/hosted phone system is its low upfront cost. The only hardware necessary is IP phones for each user. This makes it an ideal choice for small to mid-sized businesses.
Recurring Costs
Depending on which system you choose, recurring costs could include:
maintenance,
software upgrades,
hardware servicing,
long distance charges, and
training and certification.
Electricity usage is an easily overlooked expense that does affect the cost of your phone system. Because an on-premise system requires more computing power and cooling on-site, electricity usage tends to be higher than with a cloud-hosted phone system.
The cloud/hosted phone system is at an advantage here again because maintenance, long-distance, and upgrades are all included in the subscription cost.
The on-premise system is not to be overlooked as it does end up with lower operational costs over time (after the initial expenses are covered).
This chart shows a general overview of the cost comparison:
Disadvantages of On-Premise Phone System
A few of the disadvantages of an on-premise system are high set-up costs, limited flexibility, and difficulty expanding if needs exceed the physical limitations of the existing system. Also, upgrades may require a technician.
But the biggest disadvantage right now is that Telus has started telling businesses that by early 2023 they will be replacing their copper network with fibre, including the PRI (Primary Rate interface) — a dedicated copper connection between a business and its phone provider used to connect an on-premise phone system (or PBX) to the Public Switch Telephone Network. Businesses affected by this change will need to convert to a newer technology. necessary for an on-premise system. See "Telus is replacing their copper network. Is your business — and your phone system — ready?"
3 Benefits of Cloud/Hosted Phone Systems
Simplicity & Ease of Use: The "plug-and-play" functionality makes it a cinch to set up or move your system. Upgrades and new feature installation are handled by the provider to avoid confusion and reduce the responsibility of the user – especially helpful for smaller companies without dedicated IT staff.
Flexibility & Scalability: Moving the system, adding features and users, making changes to features or usage needs, and deleting features and users are all easy and can be done on an as-needed basis. Paying only for the services you actually use makes scaling seamless.
Remote Capability: Calls can be made from anywhere with an internet connection. Setting up the system to integrate with your mobile device allows users to work from home or on the go.
At Skyway West, we're committed to providing you with the best phone solution available. For more information about our phone solutions, contact us today.
---