Hosted PBX for Salesforce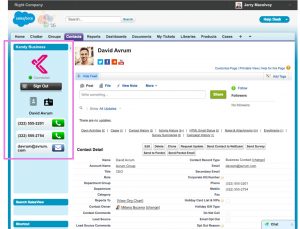 Add Voice and Video to Salesforce
Salesforce is an important business application that's adopted by many organizations. Its scope has expanded to the point where it can often be your employees' primary work environment. So why not choose a Hosted PBX for Salesforce that makes your time more productive by integrating voice and video.
Skyway's Sweet UC is a cloud-based phone system that delivers telephone service, Video Conferencing, and Collaboration. Enterprise Unified Communication features that keep you connected, at your desk or on the go.
Skyway West is a Vancouver based ISP that has partnered with Ribbon Communications and their Kandy "Cloud Communications Platform as a Service". Powered by Kandy, Sweet UC integrates voice, video, messaging, chat and collaboration into any app, service or business process. It also delivers a Real Time Communications Client for Salesforce, to make it easy for Salesforce users to receive and make calls from inside the Salesforce application. Not only does it save time (no need to look up contacts and dial), it offers integrated activity tracking. Every conversation, outbound and inbound appears in the contact/account record.
No wasted time manually tracking activities or updating a contact's record.
Managers can correlate how customer engagement activities drive results.
Sales teams can focus on selling rather than wasting cycles on administrivia.
Supports inbound and outbound calls.
One-touch access from contact records.
Easily invite customers to a video call (via link in e-mail).
Sweet UC and Salesforce integration features include…
Inbound Screen Pop with incoming call look up with a screen pop.
Auto Call Logging so Log activity is automatically in the customer contact record
Memo and Contact Updates so users can quickly update records and make notes
Schedule Video Calls and send e-mail invites to schedule a video conference
Multi-call Management so users can manage multiple calls from within the client
Simple Call Control that includes basic call management
Skyway's Sweet UC is a Hosted PBX for Salesforce that integrates voice and video into this critical business application.
---
Chris Miles is a High-Speed Internet and Unified Communications Specialist, that includes Skyway West's Sweet UC and Microsoft Teams Phone System.
---