Integrate Your Website and Phone System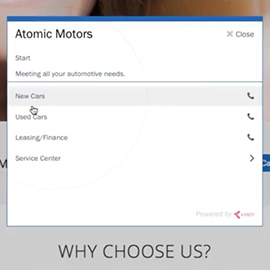 Use Your Website to Interact and Engage with Your Customers
Digital interactions already make-up 35% of all contact center traffic and in two years that number is predicted to rise beyond 50%. Two thirds of all contact center calls are already preceded by a website visit, so why not integrate your website and phone system?
Visual Attendant is one of a number of Kandy Wrappers included in Skyway's Sweet UC Hosted PBX service. You can use Visual Attendant on your website to start a conversation with your customers.
Visual Attendant's context sensitive menus offer end users point 'n click options.  Users can select the right group or department directly from any website, without the rambling menu prompts. Representatives can see the caller's browsing history, making it easier to sell services and reduce transaction times.
IT Department Friendly
Your business can create or manage Kandy Visual Attendant yourselves, without additional I.T. support.
The embed code is automatically generated to cut and paste into a website
It works on desktop and mobile endpoints
It can be easily billed like a toll-free service, using per transaction and per minute billing
Embed The Power of WebRTC in your own Website
Sweet UC and the Kandy Visual Attendant is a turnkey solution integrating your website and phone system.  Visual Attendant is a self-service tool that reduces the need for pro services or support team training. You can develop menus in less than an hour, test and get the embed code required for your website. We use the latest WebRTC technology to connect users, so you can connect legacy browsers and mobile users that aren't WebRTC ready.  Your clients will be happy with better service, as this eliminates technology hiccups. And you will also be happy with a new way to make connections.
Enhance your engagement game with Sweet UC Hosted PBX service and the Kandy Visual Attendant! Contact us anytime for more information.
---