According to Ribbon Communications: 5 Big Trends that Will Continue to Shape the RTC Industry in 2019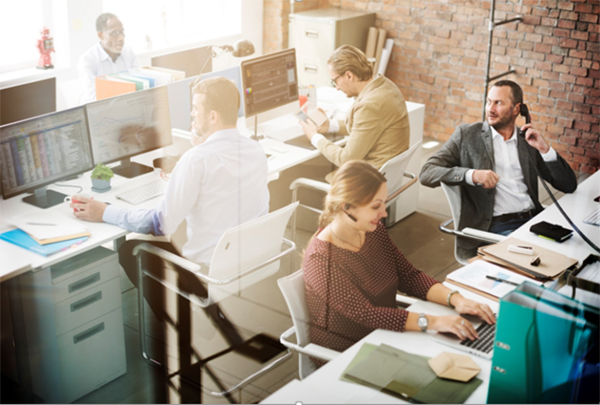 This Post republished with permission from our Partner, Ribbon Communications
Original Post published by Ribbon, Thursday, December 6, 2018
by David Walsh, Founder, Kandy
The real time communications (RTC) industry continues to evolve at warp speed and 2018 was no exception. As Communications Service Providers and enterprises continually try to maintain their dominance in an increasingly competitive digital landscape, here are the five big trends we're seeing that will continue to shape RTC space in 2019 and beyond.
1. Voice is Still the Killer App
The growth of voice-controlled assistants like Siri and Alexa is just one indication of how the human voice is the most intuitive way for humans to interact with other people, and now machines. We are talking more, not less, and we are opting to speak throughout our day, when we are not text messaging or otherwise typing, which – if you think about it – takes more time than talking things out.
The industry is still innovating in voice, and going way beyond Interactive Voice Response (IVR) menus into more sophisticated, immediate communications driven by voice, voice recording, voice transcription, voice analytics, and now artificial voice-based intelligence (AI) baked into solutions for healthcare, contact centers, smart cars, and more.
For voice to truly work in the new world, voice needs to be high definition, "pin drop" perfect, or voice commands will be misunderstood, and new technologies based on advanced voice applications simply won't work. Look for technologies delivering higher quality of service, less jitter, and premium services.
Even without machines, sometimes, you just need to speak to another live human and not just any human, the best human, the expert human. This is where we are seeing innovation through a new level of "intelligent routing" that goes beyond optimizing the network, but optimizing the people and things connected to the network.
2. Messaging Matters More Than Ever
We've all witnessed extraordinary change to the "SMS" market, as "OTT" services have grown through disruptive applications like WhatsApp, Kik, Facebook messenger, Apple's Facetime, Snapchat and dozens of others. Traditional Communications Service Providers (CSPs) have been responding with billions of dollars of investments in technologies like Rich Communications Services (RCS) while also providing the infrastructure required to support the hyper-connected, hyper-communicating world of continual, contextual interactions that go on 24/7.
A large part of the success of new messaging services is due to the "embedding" of those services into mobile and web experiences, and as we head into 2019, we are seeing a huge uptake in creatively embedded messaging services, including multimedia messaging services, for example as a means for contact centers to enable omnichannel choices for consumers to reach them – without having to dial a toll-free number. The improvements being enjoyed are making life easier for brands, their contact center providers, and for consumers who prefer instant gratification to long queues and overworked agents.
We are also seeing big productivity gains in enterprises who are embedding messaging into business applications, including workflow, ERP, CRM, tech support, field support and more. Why switch gears and have to pick up a phone, find a number and "dial" when you can simply tap to speak with exactly the right expert who can solve your problem?
3. Collaboration is Core to Innovation
With more and more mobile and remote workers, and the rise of the use of contractors across small, medium, and large enterprises, digital collaboration is critical to not just getting work done, but to also supporting imagination, creativity and ultimately innovation keeping businesses relevant and profitable in our increasingly digital world.
The medium is the message, in more ways than one, and as the way in which we work together changes, enterprise IT teams are now investing in providing powerful voice, messaging, screen sharing, and video collaboration platforms that are much more intuitive, easy to use, and secure than the alternatives the "shadow IT" employees have been turning to out of frustration and lack of modern tools.
The use of web-based and mobile applications by individuals and start-ups (Slack, Dropbox, Google Hangouts, and more) rapidly found its way into large enterprises and government agencies, and the risks associated with this were enormous.
Theft and loss of data, whether intentional (criminal) or unintentional (no controls) has risen into the billions of dollars, and created openings into entire systems cyber terrorists penetrated, with such force and volume that corporate and government leaders started to scramble to respond.
By adopting more powerful applications, for example Microsoft's latest version of Teams, which integrates many original applications into a cloud-based, much more secure and user-friendly consolidated collaboration experience, enterprises can empower people to create and innovate with less risk.
4. Cloud Virtualization Makes Everything Easier
Virtualization has proven too efficient and too cost-effective to not become the primary way in which we build, operate, secure and otherwise advance digital life and business. We are now seeing real time communications delivered as "new world" services over increasingly powerful IP networks – both fixed and mobile – as the future given the potential for creativity and economic gains compared to the "old world" of telephony, and even Unified Communications (UC) which has emerged as something more than just associating desktop and mobile phones.
We're now liberating innovation and value creation on every layer of the stack, and we're doing this in more open ways than ever. Many CSPs have wisely and widely mandated open approaches, eliminating onerous closed vendor contracts as they go and are increasingly embracing the Network Functions Virtualization and Software Defined Networking Worlds.
5. Security Matters the Most
The biggest and most meaningful trend of all? Security. With all the benefits above, none will manifest fully unless every aspect of the cloud – the applications – the sessions being transmitted over networks – are secured. With technology increasingly being delivered as a service, we need to make sure every service is secured. We cannot emphasize enough the importance of new security software for software-driven communications.
When it all comes together – securely – there will literally be no boundaries when it comes to creating value in 2019 and beyond.
---
Original Post: 5 Big Trends that Will Continue to Shape the RTC Industry in 2019
For more about our Unified Communications service, Skyway Sweet UC, visit the Skyway Sweet UC website
---