Add Live Support to your Web Site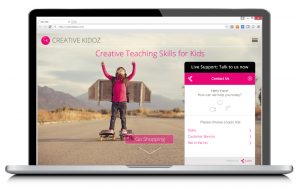 You can add Live Support to your company's Web Site. Businesses can provide productive and efficient customer support but at a fraction of the traditional cost.
Live Support is a software application that can be added to Skyway's Sweet UC, a Hosted PBX service. You can add interactive support capabilities to your business website with Sweet UC and Live Support, powered by Kandy.
Sweet UC is a cloud-based Unified Communications solution and users have access to Kandy Wrappers, like Live Support.  Kandy Wrappers are pre-packaged, fully functional software applications that integrate the Sweet UC phone system into your business process.
You can integrate real-time communications into your website with Live Support because it uses the Kandy Platform-as-a-Service (PaaS) solution.  Business can easily embed a single line of code and add the Live Support button anywhere it needs to appear. Users can activate the button and select from an intuitive menu tree. They can contact the right agent at the first attempt and interact with them using text chat, voice or video. The Live support window shows them their position in the queue if all the relevant agents are busy. Visitors on your web site or call centre agents share information, once the session has started. Users and agents can share images or videos and even use screen sharing. You can add Live Support to your Web Site, to resolve questions and issues faster.
Rich Messaging Chat so users can share images and videos with their support representative and better describe the issues that need resolution.
Screen Sharing so support experts can remotely assist users in real-time by activating screen sharing directly within the Live Support window.
Works on Web and Mobile, unlike competing solutions. Live Support also works when your users access your website via their smartphone.
Easy to Deploy:
Use the back end portal to define the menu tree, create the button and generate the HTML embed code for your website
For Businesses of All Sizes:
Micro businesses, SMBs, Enterprises and Large Contact Centers can benefit from Live Support as an overlay or fully integrated
For more information on Live Support or any of our Kandy Wrappers, contact us anytime.
---