How Today's Hosted IP Telephones KNOCK OUT Modern Key Telephone Systems


If you're starting a business, upgrading an old Norstar phone system, or have multiple sites, business communication greatness awaits.
Over the top? Are we kidding? Not at all. Choosing and using the "right" telephone system is crucial to the success of any business… and the process of deciding on a system is often both challenging and difficult. It doesn't have to be.   Here's why:
Affordability – Round 1
All Electronic Key Telephone Systems have a Key Service Unit (KSU) … AKA "The Box on The Wall".   That box houses line & station cards, Voice Mail and the Auto Attendant and cost about $3-4K. That's money you will save with a Hosted IP Telephone System because there is no box. It's replaced by bigger, smarter boxes that live in our network centers.
Affordability – Round 2
Why install and maintain TWO wired networks (Phone and PC), when you need only ONE – The LAN – that would happily support your Hosted IP Telephones? Or pay two different companies to maintain two networks? Why?
Affordability – Round 3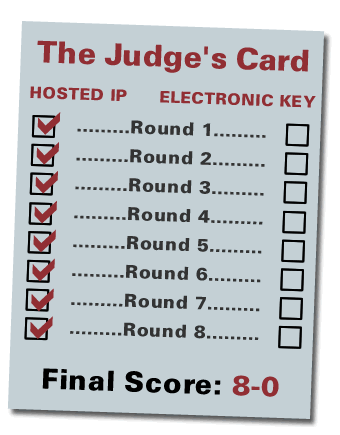 The world's telephone network is going 100% IP. That's been decided, it's a done deal.  A system designed from the ground-up to run on IP makes a lot of sense.  Many Key Systems today offer "IP Trunk Cards" or "IP Station Cards" as options… BUT they're EXTRA, and often PROPRIETARY, not standards-based. Unfortunately, that translates to restricted use in some cases. A good question to ask is, "Can we plug in a standards-based SIP Telephone?"
Affordability – Round 4
Pull out your Key System Telephone service records for the last 3 years and add them up – is that more or less than $1700.00? Every time that shiny telephone van rolls up, it's likely a $200 – 300 invoice that follows. Zero, or almost zero, truck rolls with a Hosted IP Telephone solution. And have you ever heard any of these statements?
You need a new line card.
You need a new station card.
You need a second cabinet.
You need a larger system.
With a Hosted IP Telephone System, none of the above will ever apply.
Flexibility – Round 5
Can you easily transfer calls off-premise… to anyone? Can a central receptionist cover multiple sites? Can the boss have a mirrored extension at home? Can your iPhone or Android cell be an extension? Older Key Telephone Systems… impossible, or at great expense. Newer systems… maybe some of them. Hosted IP Telephone systems? All of them!
Scalability – Round 6
Easy growth – vertical and horizontal. Add (or subtract) a phone as needed… or maybe you're expanding to an office across town… is it costly to connect two systems together? With Hosted IP Telephones, they're already connected.
Upgradability – Round 7
Software, not hardware, is name of the game. We upgrade our Hosted IP Telecom network core and add features on a regular basis. No charge.   With a Key System, it's probably a case of adding new hardware, and likely a truck roll.
Survivability – Round 8
No Internet? You're covered… The corporate Auto Attendant and Voice Mail still answer… and we can quickly divert calls to anywhere you choose. If WE go down…back up servers in Edmonton, Toronto or Montreal take over. Sure, a Key System can be made redundant… but what if there's a fire, flood, or major catastrophe? With us, you're covered.
---
For more information, we'd love to talk with you… please call our sales number at 604.482.1225, or call me directly at 604.484.5269.
You can also email me at rmcnulty@skywaywest.com
Robert McNulty
Skyway West
---