Skyway Launches "Infrastructure as a Service" Data Center in the Cloud
Last week I was in Calgary, rolling out our "Infrastructure as a Service" to System Integrators and I.T. firms. Skyway is partnering with OneWire, delivering a hardware-free solution that gives I.T. professionals all the advantages of a complete enterprise-class datacenter without the hassle and expense of managing such a sophisticated system. Your servers exist in a virtualized environment so you do not have to purchase, configure, maintain, or upgrade any hardware; we do this for you.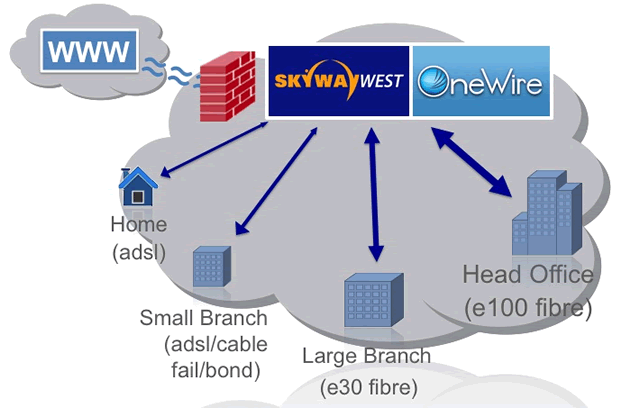 And unlike many of our competitors, Skyway can bundle our AnyIP MetaLAN Private Networking service with both our high speed Internet connectivity solutions (i.e., ADSL, Fibre, Fixed Wireless and Cable) and our cloud-based Infrastructure as a Service Data Center. You can host your important applications in the cloud, but on a corporate Private Network, while keeping your same internal IP addresses. In other words your applications running "in the cloud" can appear on the network as if it was down the hall.  Let's take an example of a business with four servers:
Server 1, a File Server on internal IP 192.168.1.2
Server 2, SharePoint on internal IP 192.168.1.3
Server 3, Exchange on internal IP 192.168.1.4
Server 4, an IP PBX on internal IP 192.168.1.5
You could (for example) run your SharePoint and Exchange applications on Skyway's cloud-based Infrastructure as a Service Data Center, behind your corporate Firewall, and continue to use the same 192.168.1.2 and .3 internal IP addresses. And applications in the cloud enjoy a GigE connection.
Starting for as little as $70 a month, running applications in the Infrastructure as a Service Data Center in our private cloud guarantees security and performance, while keeping costs in line.
Chris Miles | 604-484-5257 | cmiles@skywaywest.com
Wikipedia and other Definitions
What is a File Server?: A file server is a computer responsible for the storage and management of data in a central location.
What is SharePoint?: Microsoft SharePoint is a software platform and a family of software products developed by Microsoft for collaboration, file sharing and web publishing.
What is Exchange?: Microsoft Exchange is a messaging system that includes a mail server, an e-mail program, and groupware applications.
What is an IP PBX?: An Internet Protocol (IP) Private Branch Exchange (PBX) is a business telephone system designed to deliver voice or video over a data network and inter-operate with the normal Public Switched Telephone Network (PSTN).
---